ماكينة خياطة وتطريز براذر بكمبيوتر، ابيض ازرق - NV-180
ماكينة خياطة وتطريز براذر بكمبيوتر، ابيض ازرق - NV-180
31,200
Cash on delivery
Cash or card
---
Return for free
Up to 30 days
النوع
ماكينة خياطة وتطريز
أهم المميزات
• لضم الإبرة بالخيط أوتوماتيكيا
• عمل العراوي أوتوماتيكيا
• أنماط تطريز مدمجة
• أنماط مدمجة للغرز الديكورية وغرز الزجزاج
• خطوط مختلفة لحروف التطريز
• شاشة LCD تعمل باللمس
سرعة الخياطة
850 غرزة في الدقيقة
• مكوك أفقي
• 80 نمط تطريز مدمج
• 181 غرزة مدمجة
• 10 أنماط تطريز و4 خطوط للخياطة مدمجة
• 140 نمط للإطارات
• مساحة تطريز 100 × 100 ملم
• مساحة عمل كبيرة 15.8 × 10.4 سم
• شاشة LCD ملونة بحجم 9.4 سم
• خاصية تعديل الخط
• خيارات تعديل مدمجة في الشاشة
• منفذ USB
• دواسة القدم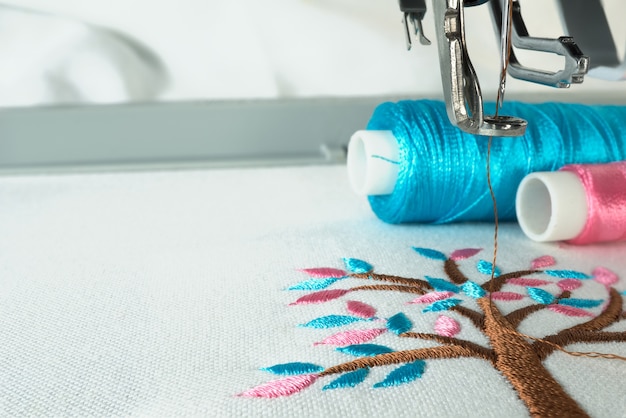 • مكوك سريع التركيب
• نظام F.A.S.T للف المكوك
• إمكانية ترقية البرنامج
• سرعة التطريز القصوى: 400 غرزة في الدقيقة
• نظام تغذية بحركة الإسقاط
• عمل نمط غرزة خاص بك
| | |
| --- | --- |
| Brand | Brother |
| Sewing and Accessories type | Computerized Sewing Machines |
| Color | Multi Color |
| Model Name | NV-180 |

Customer reviews
Expert reviews
NV180
I am very, pleased with this versatile, easy to use machine. Sews and embroiders beautifully. Love the time saving features. Great value for money. Although it is a good step up from the NV950, the designs programmed into the NV180 are not as good, and there is no info provided on the 100 x 170mm...
Written by brother.com.au customer
A little dissatisfied
I bought this in June 2019. I am a little disappointed after downloading and paying for pictures, to find out that the machine doesn't allow you to do bigger pictures then 100mm x 100mm. Why do you get a 100mm by 170mm frame? It is confusing and kind of misleading.
Written by brother.com.au customer
Great little all rounder
I bought this machine for my daughter in law as she wanted to start learning about sewing and embroidery. A perfect choice for a beginner ... easy to use...lots of fun stitches and designs and great value for money. She made her first quilt for her friends new baby and was very proud.
Written by brother.com.au customer